Welcome
Welcome to Our Lady's Primary School, Tullysaran, website. We are a welcoming school community with high aspirations for all of our children. As you browse through our website we hope that you will learn more about our school community and the experiences of our children. Thank you for visiting our website and please contact us if you have any further queries.
Admissions 2023/24: Online applications for Reception or Primary One for September 2023 opened on the Education Authority website on Tuesday 10th January 2023 @ 12 noon until 12 noon on Thursday 27th January 2023.
Further information is available on the Education Authority Website at:
https://www.eani.org.uk/parents/admissions
Please contact our school if you have any queries or would like to arrange a visit.
Telephone: 02837548237 or email: info@ourladys.tullysaran.ni.sch.uk
You can also contact the Education Authority:
Reception Class: preschooladmissions@eani.org.uk or
Primary One: primaryadmissions@eani.org.uk
Please view our attached prospectus, admissions criteria and short video which will provide you with a glimpse of life in Our Lady's Primary School, Tullysaran. Thank you.
25 Years of Our Lady's Primary School
As we celebrate 25 years of Our Lady's Primary School we are going to travel back in time
and post memories from the past on our website. Please view some photos from 2010/11.
First Holy Communion 2023
Welcome to Our Lady's Primary School Tullysaran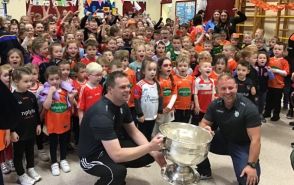 Upcoming Events...
Thursday, 1st June 2023
P4 & P5 Art club 3-4pm (5 weeks)
P4 & P5 Sports club 3-4pm (5 weeks)
P1 Sports club 2-3pm (5 weeks)
P6 Transfer class (3-4.15pm)
Friday, 2nd June 2023
Sports Day (Non-Uniform)
Monday, 5th June 2023
P6 Transfer class (3-4.15pm)
Wednesday, 7th June 2023
P6 & P7 Emerald Park School trip (8am - 6pm)
P5 Swim Lessons (During school)
P4 & P5 Science club 3-4pm (5 weeks)
Thursday, 8th June 2023
P5 Craigavon Ski Centre school trip (9am - 4pm)
P1 Sports club 2-3pm (5 weeks)
P6 Transfer class (3-4.15pm)
Monday, 12th June 2023
P6 Transfer class (3-4.15pm)
Wednesday, 14th June 2023
P6 & P7 Gaelic boys & Girls 3-4pm (7 weeks)
P4 Airtastic school trip (9am - 4pm)
P5 Swim Lessons (During school)
Thanks to our Website Sponsors
Our Lady's Primary School,12 Milltown Rd, Benburb, Dungannon, Co Tyrone BT71 7NJ Phone: 028 3754 8237